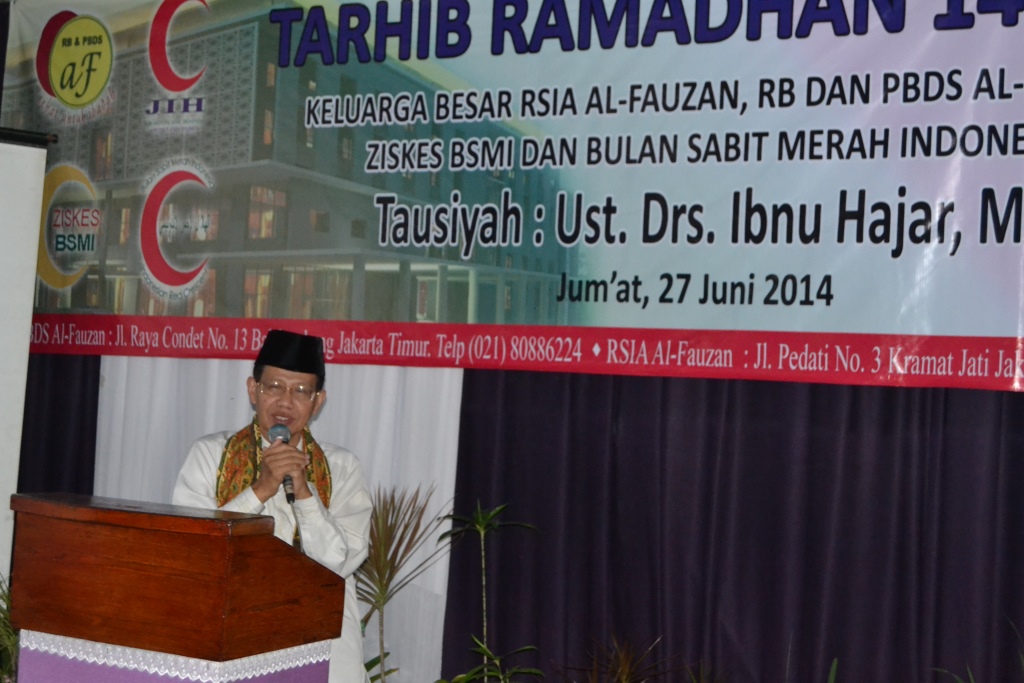 (Jakarta) – BSMI.OR.ID Welcoming the arrival of the fasting month of Ramadan 1435 H, hundreds of volunteers Indonesian Red Crescent (BSMI) following Ramadan Tarheeb held by the national board in the hall BSMI RSIA Al Fauzan (Jakarta Islamic Hospital), Friday (27/6).Tarhib Ramadan this time delivered by the Deputy Mayor of East Jakarta Public Welfare Division Ust. Drs. Ibn Hajar, MM and also attended by the board of supervisors, donors, partners and other invited guests.
In addition to the tarhib, BSMI cooperation with hospital and clinic Al-Fauzan provide cheap food packages to 300 residents who can not afford. The provision of cheap food package aims to ease the burden of poor citizens due to rising prices of basic necessities ahead of a number of entry of Ramadan.
BSMI is a national humanitarian agencies that provide assistance and relief to others both in domestic and foreign aid. Although the symbols used Islam breath (red crescent), but the assistance provided by volunteers not look ethnic backgrounds and beliefs held beneficiaries.
The event begins with a welcome tarhib national board Dr. Pritchard Kusumaningsih, SpOG which explains the meaning tarhib enlighten the people about the importance of preparation for Ramadan. "With the entry of Ramadan, we invite volunteers and the general public to take advantage of the virtues of Ramadan by extending the deeds to win the pleasure of Allah," he explained.
Meanwhile, in tausyiah, Ibn Hajar explains, the holy month of Ramadan is a month full of blessings and forgiveness for those who sincerely fasting and worship. In addition, Ibn Hajar also provide lunch to volunteers and other participants tarhib with spiritual messages during Ramadan undergo so much faith and devotion capacity increases, both physical and spiritual.
"With pious deeds and charity,  God willing,  after the holy month left us, then Allah will double, will be replaced the larger and blessing," said Ibnu Hajar. He also added that Muslims stressed the importance of enhancing interaction with the Qur'an in a way to read and interpret meaning, and multiply formed friendships, and feed the orphans.
After Tausyiah, tarhib event ended mutual Greetings as between volunteers with the board of supervisors and national officials. Bermaafan with each other around and shaking hands is expected to welcome the holy month of Ramadan with a clean heart. []